DHS Wins 2014 WfMC Global Award for Case Management
Posted on Jun 19, 2014 in News
The Department of Human Services (DHS), Benefit, Employment and Support Services Division (BESSD) has received a 2014 Global Case Management Award for Excellence in Social Services for its recently-deployed enterprise content management (ECM) and case management solution (CMS) that supports 22 distributed office locations across the islands.
The Global Awards for Excellence in Case Management recognize user organizations worldwide that have excelled in implementing innovative solutions. "We are honored to receive this highly-respected award; this is a tremendous acknowledgment for all of the hard work and creativity it took to improve our beneficiaries' overall experience," said Pankaj Bhanot, Administrator of BESSD. "The CMS has empowered our staff to capture more securely and accurately our beneficiaries' case information and access that information from any location. They can now monitor the process more efficiently allowing the agency to deliver support much sooner."  Bhanot accepted the award on June 17 at the 2014 BPM and Case Management Global Summit held at the Ritz Carlton, Pentagon City, MD.
The DHS/BESSD staff provides Hawaii residents essential support services that include food, shelter, and child care assistance, as well as employment support and work-training, and dependency diversion and prevention.  All support services require substantial case documentation and management.  BESSD's main objective for implementing the CMS was to improve the customer experience, improve data quality, provide an optimized 360⁰ view of cases across all the distributed branch offices, and to manage more efficiently an increasing number of cases without adding additional support staff.
The CMS solution replaced a paper-based system with an electronic format that now supports automatic recognition and classification of citizen-provided content.  It minimizes the need for manual paper processing and leads to improved accuracy for form validation and accelerated case processing times.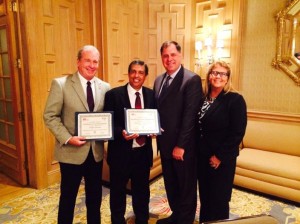 Pictured from left to right: Rick Smith – Founder and CEO at Imagine Solutions, Pankaj Bhanot – Division Administrator at State of Hawaii DHS/BESSD, Michael Pray – Vice President Worldwide ECM Sales at IBM, and Jayne Metz – Senior Project Manager at Imagine Solutions.