Kamāmalu Building Welcomes DHS
Posted on Aug 24, 2017 in Main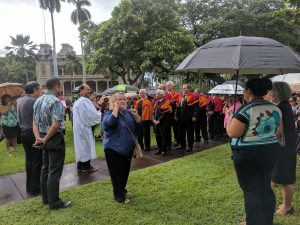 On Monday, August 14, a steady stream of sprinkling rain came down on a group from the Department of Human Services gathered at the 'Iolani Palace bandstand. Among them were royal societies, from the Royal Order of Kamehameha, the Ka'ahumanu Society and Hale o Nā Ali'i. Everyone there was gathered to honor Princess Victoria Kamāmalu and her legacy as it's embodied in the new home for DHS downtown team members. We appreciated the blessing being offered that morning by the rain.
Department of Human Services' leadership and staff were joined by royal societies and Kahu Kordell Kekoa as they gathered to bless the building and all our DHS 'ohana who would call the building home.
Before each team member made their way across Richards street, Kahu Kekoa placed rain water on their hand and set an intention that all be pono. They were led by the royal societies and DHS leadership to the building where a ceremonial maile lei was untied.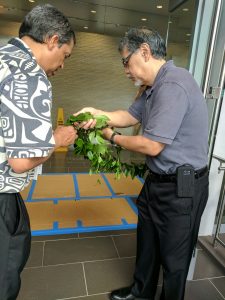 Kahu Kekoa then went floor-by-floor, blessing the building. DHS team members were on hand for each floor's blessing.
Over the coming weeks, DHS staff will settle into the Princess Victoria Kamāmalu Building. Administration staff for three of four DHS divisions and the administratively attached Office of Youth Services will be under one roof. This brings us another step closer to 'Ohana Nui, as our DHS family will share the same physical space in downtown O'ahu for the first time in years.
Join us in wishing our staff a happy start in their new home.