Foster and Adoptive Care
The Department of Human Services & its Community Partners
Honor and Support Resource and Adoptive Families
The Mission
Permanency by keeping children at home with their families safely (prevent removal), reunification, relative placement and maintaining safe and appropriate birth family connections.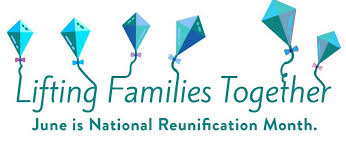 Celebrated in June each year, National Reunification Month recognizes the people and efforts around the country that help families to stay together. In Hawaii, over the years, we have recognized families and their support system comprised of Family Court, Child Welfare Services, as well as the individuals and community partners – including social workers, resource caregivers, judiciary representatives, and social service providers that strengthen and support families working to reunite with their children. Mahalo to all who contribute to reunifying and keeping families together!
In celebration of National Reunification Month, a consortium of Hawaii non-profit agencies, Child Welfare Services, and the Judiciary, have created a Live Reunification Webinar on Tuesday June 29th, 2021 to highlight the power of Resource Family and Birth Family Connections on the road to Reunification. The Webinar is open to the public and we invite you to attend!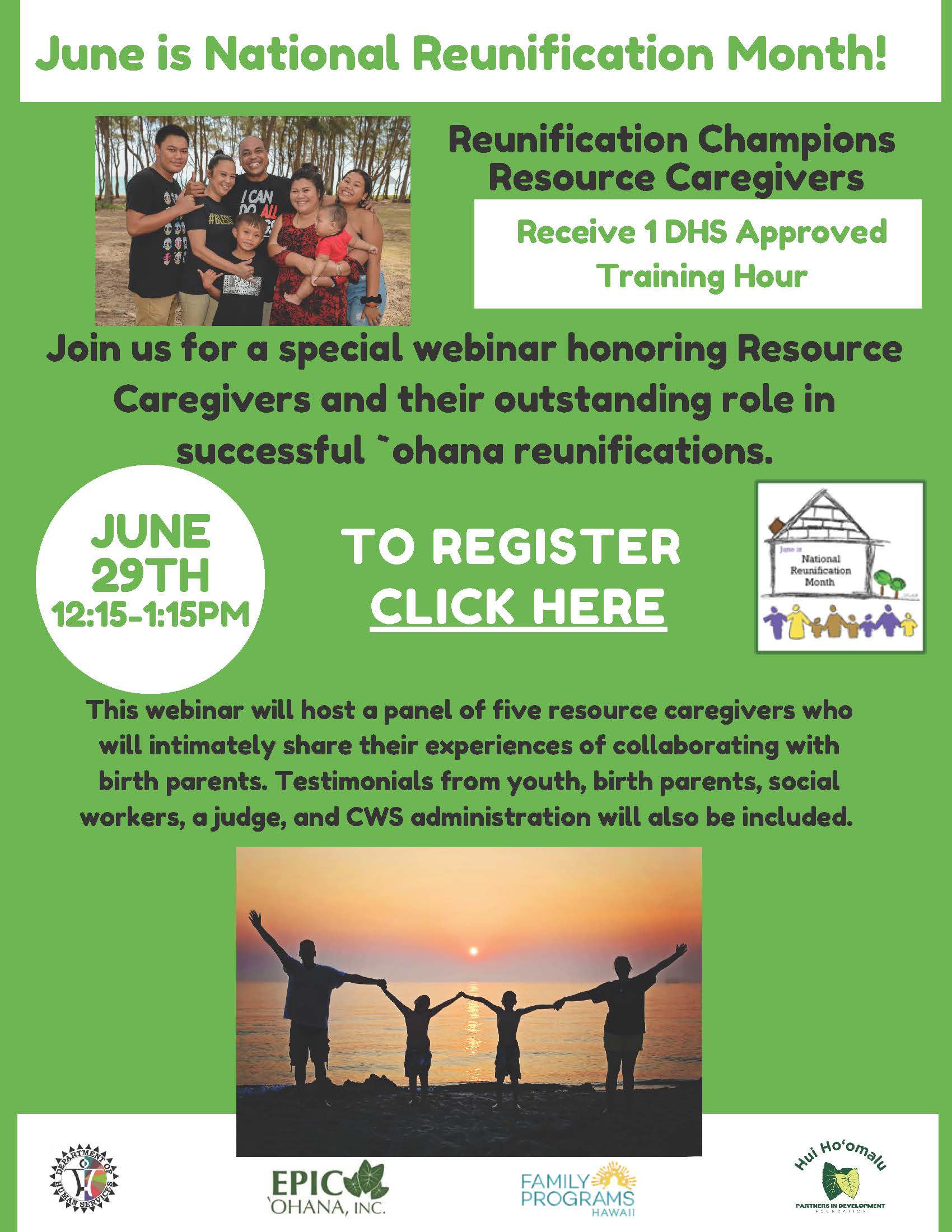 National Reunification Month Webinar- All Are Welcome!
Day: June 29th, 2021
Time: 12:15pm-1:15pm
Please Click Here to Register & Receive the Zoom Link: Webinar Registration – Zoom
2020: A Healing Journey: The Road to Reunification
2019: Hikalea Family
2018: Estrella Barnett
2016: Soares Family
2015: Ganon Family
2014: Kim Seu Family
2013: U'u Family
WARM LINE SUPPORT LINE FOR RESOURCE CAREGIVERS IS NOW OPEN 7 DAYS A WEEK, 8:30AM-10:00PM.  Oahu (808)545-1130/Neighbor Islands 1-866-545-0882 (Toll-free).  WE ARE HERE TO SUPPORT YOU!
"Answering the Call – You don't have to be perfect to be a perfect parent. There are thousands of teens in foster care who would love to put up with you." To learn more about Foster Care in Hawaii visit http://www.pidf.org/projectpilina or attend a Foster Care Info Session.
STATEWIDE INFORMATION SESSION
ONLINE VIA ZOOM
Wednesday, November 17th, 2021
6:00 pm-7:00 pm
Friday, December 10th, 2021
12:00 pm-1:00 pm
Tuesday, January 11, 2022
6:00 pm-7:00 pm
Thursday, February 17, 2022
12:00 pm-1:00 pm
Friday, March 11, 2022
12:00 pm-1:00 pm
https://us02web.zoom.us/j/88365797275
Meeting ID: 883 6579 7275
Zoom is the leader in modern enterprise video communications, with an easy, reliable cloud platform for video and audio conferencing, chat, and webinars across mobile, desktop, and room systems. Zoom Rooms is the original software-based conference room solution used around the world in board, conference, huddle, and training rooms, as well as executive offices and classrooms. Founded in 2011, Zoom helps businesses and organizations bring their teams together in a frictionless environment to get more done. Zoom is a publicly traded company headquartered in San Jose, CA.
    One tap mobile
+16699006833,,85827708241# US (San Jose)
+12532158782,,85827708241# US (Tacoma)
   Dial by your location
+1 669 900 6833 US (San Jose)
+1 253 215 8782 US (Tacoma)
+1 346 248 7799 US (Houston)
+1 929 205 6099 US (New York)
+1 301 715 8592 US (Washington D.C)
+1 312 626 6799 US (Chicago)
Meeting ID: 858 2770 8241
Find your local number: https://us02web.zoom.us/u/kbsp3Podlo
To reserve your seat, click here to submit online registration.
Frequently Asked Questions
1. What process does DHS follow in approving resource families?
The approval process requires the social worker to:
Conduct child abuse and neglect checks and criminal history clearances on all adult household members
Conduct a home visit
Obtain references on the prospective resource caregivers
Obtain medical reports for the prospective resource caregivers and TB clearances for all adult household members
Obtain a copy of a marriage certificate, if applicable, for the prospective resource families
Obtain financial information and employment history for the prospective resource families
2. What criminal or child abuse history would disqualify a person from being a resource caregiver?
The Department of Human Services adheres to the Federal Law which prohibits the licensing of a resource caregiver/home if:
At any time, there has been a felony conviction for child abuse and neglect; spousal abuse; a crime against a child or children, including child pornography; or a crime involving violence, including rape, sexual assault, or homicide, but not including other physical assault or battery.
If within the last five years, there has been a felony conviction for physical assault, battery or a drug related offense.
Other situations of confirmed child abuse and neglect cases and other criminal convictions would need to be assessed if they pose a risk to children in care.
3. Do prospective resource families receive any training?
Yes, applicants are required to attend an 15-hour pre-service training, called HANAI. Catholic Charities Hawai'i is contracted by the Department to provide the training.
If you are interested in becoming a resource family, PIDF can be reached at:
Partners in Development Foundation
Project Pilina
Fostering Begins Here
E-mail: [email protected]
Website: www.pidf.org/projectpilina
Ongoing Training Requirements & Resources for Resource Caregivers:
4.  What are the Reasonable and Prudent Parent Standards for resource caregivers and child-caring institutions?
We have compiled a guide for resource caregivers and child-caring institutions that you can access here.
5.  How can resource caregivers and child-caring institutions promote normalcy and well-being in children and young people in foster care?
We created a question and answer guide for resource caregivers and child-caring institutions to better understand what measures help promote normalcy and well-being.
Resources for Resource and Adoptive Families
NEWSLETTERS: Hui Ho'omalu Statewide Resource Advisory Committee (RAC)
U.S. Department of Health and Human Services' Administration for Children and Families National Adoption Month
Comparison of Permanency Options: Rights, Responsibilities & Benefits Regarding Adoption. Legal Guardianship and Permanent Custody
Licensed Agencies in Hawaii