Child Welfare Services
CWS programs include family strengthening and support, child protection, foster care, adoption, independent living and licensing of resource family homes, group homes and child-placing organizations. Services are available on Oahu, Hawaii, Kauai, Maui, Molokai and Lanai, with 36 units/sub-units and a staff of over 500.

To Report~
Child Abuse or Neglect
808-832-5300 or (toll free) 1-888-380-3088
Child Trafficking
808-832-1999 or (toll free) 1-888-398-1188
Missing Children Website

A Guide to Child Welfare Services (September 2020)
Mandated Reporters
Due to the recent changes to the Hawaii Revised Statues Chapter 350 – Child Abuse and Mandated Reporting laws – the Friends of the Children's Justice Center of Maui has produced and released a film about Mandated Reporting of child abuse and neglect.  The 12-minute film explains that  individuals who work for human service agencies, schools, courts, and other organizations that work directly with children, are required by law to report abuse and neglect of a child to the appropriate authorities.  The film also outlines the process for reporting abuse or neglect of a child.  Click here to view the Youtube video that was published on Aug 30, 2014.
Family First Prevention Services Act (FFPSA)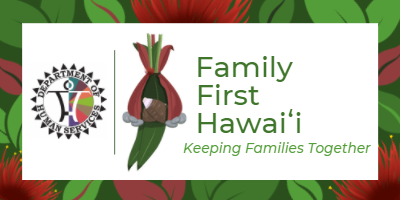 Family First Hawai'i – Family First Prevention Services Plan (September 2021)
FFPSA Hawai'i – Family First Prevention Services Act information Flyer (June 2021)
Child and Family Services Plan (CFSP)
FFY 2020-2024
Annual Progress and Services Report (APSR)
Citizen Review Panel Reports     Archives
The federal fiscal year is October 1 though September 30.
FFY 2019
Title IV-E Waiver Demonstration Project