Success Stories
Christi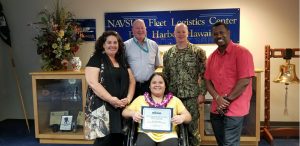 Pictured above: (L-R) Christi with her employers at NAVSUP.
I began DVR services in 2015 & was not sure what to expect. I started with a class where I was able to learn about job skills, and most importantly, how to have confidence within myself. Because of DVR, I was able to fulfill my goal of obtaining a lifelong career as an Office Clerk in 2017 working for such an amazing organization, NAVSUP!
I'm doing great! I LOVE my job and all the people that I work with. I'm learning a lot that continues to help me grow & succeed in my clerical position. I'm currently working on reviewing documents, coordinating shipments & customer service. Everyone at JPPSO is very kind & very, very helpful. I am very happy that I'm working for & with such great people! I am forever grateful for this wonderful opportunity!
I want to share this photo with you & say that this is where your hard work, dedication & all that you do for clients such as myself, pays off. I received the Employee of The Quarter award in 2019. THANK YOU for what you do. I'm extremely grateful for you, know my heart is extremely grateful for DVR and I'm extremely grateful for EVERYONE at NAVSUP Fleet Logistics Center, Pearl Harbor that has had a hand in where I am at today.
Arthur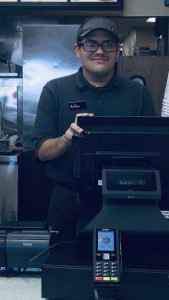 Pictured above: Arthur working the register at Jack in the Box
Arthur came to the Division of Vocational Rehabilitation (DVR) for assistance in finding employment. He was receiving SSI benefits in the meantime but wanted meaningful work. In the past, Arthur had applied with DVR however he was not successful in finding employment.  Arthur was persistent and didn't give up on being able to work which led him to Vocational Rehabilitation Counselor Karen Prince in May 2019. She worked with Arthur and in the process discovered his dreams in life.  Karen provided job leads and assisted with job applications. Despite numerous application attempts, Arthur was not having success at finding employment.
In October, Karen referred Arthur to the Evaluation & Training (E&T) program at Easter Seals.  He was assigned to work with one of their Employment Associates, Derena De Jesus. She met with Arthur the following month and completed a work assessment. Derena learned through the assessment that Arthur's career goal was to work in a bank and starting as a cashier would be a perfect stepping-stone.
Derena worked with Arthur to improve his interviewing skills and to build his confidence. She helped him apply and arranged for an interview at Jack in the Box.  All the hard work paid off!  Arthur was able to secure employment and began working in January 2020.
Derena and Karen maintained contact with Arthur while he completed his first 90 days of employment. In February, Derena contacted Karen to inform her that Arthur was doing very well on the job.  He has received 4 Outstanding Service notices from customers and his managers reported they wish they had more hard working employees like him.  With his success at work and not needing additional services, Arthur's DVR case was successfully closed in April.
Derena and Karen maintain regular contact with Arthur.  Derena relayed that the manager of Jack in the Box wanted to know if DVR had more job candidates to refer because of Arthur's successful placement. 
"Thanks to you guys after years of not having a job and searching it was really easy with you. I'm really thankful to have a job."- Arthur 
Scott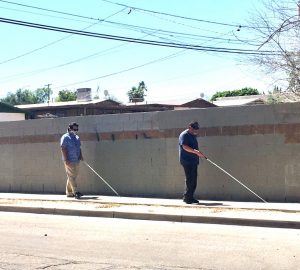 Pictured above: Scott working with a blind student on cane travel.
Scott was self-referred to Ho`opono Services for the Blind back in 2014 as he was having difficulty living with his genetic eye condition, retinitis pigmentosa (RP).  He was still driving and working at Fisher Hawaii but most of his co-workers and friends didn't know Scott was legally blind.  His VR Counselor, John Zamarra, felt that Scott needed to learn blindness skills to prepare him if his vision were to progressive get worse as is the case with most individuals with RP. 
In March 2015, Scott joined the New Visions Program at Ho`opono which is a Structured Discovery Program that builds confidence through the blindness skills being taught.  A great part of the program is it is taught by blind individuals.  After a year of going through the program, Scott graduated in April 2016.  He gained blindness skills and confidence which was evident after seeing so many positive changes.  Scott no longer drove, the white cane was a part of his daily life and he found a new love in his life.   His original goal was in the technology field but had changed with his experiences in the New Visions Program.  Scott realized he wanted to become an Orientation & Mobility (O&M) Instructor. 
John worked with Scott on changing his vocational goal.  Scott was able to participate in an O&M apprenticeship program at BLIND Inc. in Minneapolis, Minnesota for seven months and volunteered in the New Visions Program for a few months until he passed his National Certification.  Scott received his National Orientation & Mobility Certification from the National Blindness Professional Certification Board.  In August 2019, Scott got a job offer at SAAVI Services for the Blind in Yuma, Arizona where he currently works as an O&M Instructor. 
"As a blind individual, I have learned a lot from my instructors and my counselor. They have given me the freedom to choose what I wanted to do by giving me the opportunity to live the life I want.   As an incoming student, I was very fearful of my blindness and doubted my skills.  During my training at Ho`opono, I learned that I had gained good skills in orientation and mobility this gave me the drive to push on forward to become an Orientation and Mobility specialist. The staff at VR took the time to understand me and  to achieve our ultimate goal which was for me to be a positive role model in today's society and to help students attain the same goal who are blind."-  Scott Tokunaga