Feel Good Stories- COVID 19
DVR Staff Providing Facemasks for the Community- 4/30/20
Ever since COVID-19 has made its presence in our everyday life, more and more people are wearing facemasks, whether to prevent from spreading or contracting COVID-19.  Now, it is mandated that everyone must wear a mask in public with a few exceptions.  With the shortage of PPE, many people are taking their "dusty" sewing machines out of storage and putting it to good use.  You see stories of individuals making masks for the front line and essential workers, for family, friend or for those who just can't afford or able to access it.  
I know of two DVR staff members who are using their free time to help contribute.  On Maui, Secretary Carolyn Caires first started making masks for herself and family to keep them safe.  She quickly saw how others were making masks and selling them for profit which bothered her.  Carolyn said, "So I decided to keep making them and chose to give them away for "free" to essential workers, seniors, friends and families. As time went by I received donations of material and elastic so I could continue to make masks as the material stores quickly closed their doors here!"
So far to date, she has made 325 masks and given these away to; The Maui Humane Society, HARF, Hale Makua, Safeway in Wailuku, Longs Drug Store in Kahului, The County Clerks Department and Security Guards at the Courthouse, the staff at Kiss FM radio station, Walmart workers, the entire Emergency Room Night Crew Nurses and Doctors, Caretakers to a young girl who is disabled and requires 24/7 care, Postal Workers, Mahi Pono Farming Co., Central Automotive Co., Upcountry Miyaki Concrete, Maui County Public Works, Department of Health (both sections), Assistive Infection Control & Risk Department, a few Lawyers at the courthouse, Maui Memorial Medical Center housekeeping crew, Pharmacy Tech's at the Maui Lani Kaiser, Costco, co-workers and their entire families, Welfare, Unemployment, family and friend.  Carolyn said if any DVR staff are in need of masks, to contact her.  
Kat Fujimoto, the BEP Manager at Ho`opono has been making masks as well.  Maybe not 325, but Kat's heart to provide masks for her family, friends, friends of friends, neighbors and co-workers have been a blessing for those who are on the receiving end.  Like Carolyn, Kat started making masks for herself when she would go shopping for groceries and her son.  Funny story…Kat was mentioning that her son won't let her go out for shopping or just to run a quick errand as he told her that she is in the "at risk" group due to her age!  
When Kat realized the need, she soon started asking others if they had a mask and orders started coming her way!  She also put the word out to our Management Team at Ho`opono to see if we or other staff who were coming into the office needed a mask.  There were many who took up her offer and are so happy that they now have re-uasble and stylish masks.  
Mahalo Carolyn and Kat for your "behind the scenes" giving back to the community!
Pictured above are Carolyn and a few of the different facemasks.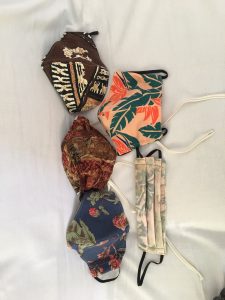 Pictured above are a few of the different types of facemasks Kat made.
Blind Vendors at Work Serving the "Essential Workers"- 4/28/20
With so many people having to work from home during the Governor's "Stay at Home" orders, there are blind vendors in Ho`opono's Business Enterprise Program who are keeping their doors open to the essential workers in their building.  Chris's Snack Shop at the Liliuokalani Building (Department of Human Services/Department of Education) has a "Grab-N-Go" menu each week not just for those in the building but for others working in nearby buildings.  5th Floor Cafe in the Kinau Hale (Department of Health) has daily specials for the building workers.  Evelyn's Deli Snack Shop at the Honolulu Police Department Main Station is staying open for the officers and staff working in the building.
If you are currently working in the Downtown area and are looking to support a local business for lunch, check out one of these establishments!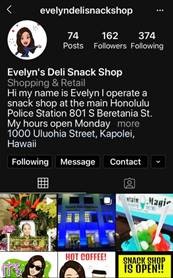 Picture of Evelyn's Snack Shop Instagram Page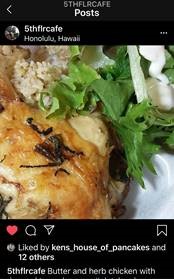 Picture of 5th Floor Cafe's Instagram Post- Butter and Herb Chicken
Ho`opono's Older Blind Program Keeping our Kupuna Independent During the Stay at Home Orders- 4/23/20
Just wanted to share with you a nice story about my client whom I spoke with on Tuesday, April 22, 2020.   Jane* is an 88 years old Japanese female whom I had met and started working with in 2014.  Her case was closed then re-opened as she needed more services.   It's been a pleasure working with her.   She is diagnosed with Glaucoma, Diabetic Retinopathy and Macular Degeneration.   She lives alone and family members visits occasionally.  Jane is a very nice and positive person and tries to do things on her own despite her very limited vision. 
She was provided a senior companion volunteer for many years however due to the coronavirus crisis, the Senior Companion Program got suspended.   Her son and nephew comes over to help out when they can.   She was also receiving Hawaii's Meals on Wheels hot meals until they stopped their services as they did not have enough volunteers for delivery.  However, she mentioned that the Mayor had set up a program where Kupuna like herself who have difficulty getting meals could still get meals delivered.   Unfortunately, she could not remember the name of the organization or agency that is providing this service to her.  I mentioned to her various agencies and organization that are providing free meal deliveries and happy to know that there are programs out there to help people like herself.   She received a big box of frozen meals twice a month, once at the beginning of the month and one in the middle of the month.   She said she has so much food now.  She thanked me for helping her to mark her microwave oven since now she was force to use it more as prior she was receiving hot meals from Hawaii Meals on Wheels and didn't have to use her microwave oven much.  Having her appliances marked for her made things so much easier for her.  
Also, Jane had received Low Vision Clinic services in the past and is so happy that she purchased the Eschenbach LED hand held magnifier to help her read the labels and instructions on the food item.   She listens to the television all day to keep inform with the COVID-19 news updates.   Jane is very thankful and grateful for the services she received.   She thanked me for calling and reaching out to her during this time.    Staying connected to our clients at this time is so important as they know we are here for them and they won't feel so isolated or depressed. 
* Name of the client was changed to keep confidentiality