Hawaii State Commission on the Status of Women launches anti-trafficking campaign
Posted on Jul 10, 2018 in Main
HONOLULU, HI– On Monday, July 2, the Hawai'i State Commission on the Status of Women at the Department of Human Services launched its first anti-trafficking campaign to coincide with RIMPAC. The "She is All Women" campaign aims to bring attention to the outsized demand for prostitution inHawai'i — a demand met in part by sex trafficking, and that surges during RIMPAC. 
Major events such as RIMPAC create a significant risk of commercial sexual exploitation to women and girls in Hawaii. The Commission is especially concerned for runaway youth, Native Hawaiian, immigrant, and LGBTQ persons, who are at an elevated risk of the predictive factors for prostitution and sex trafficking.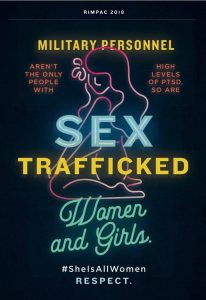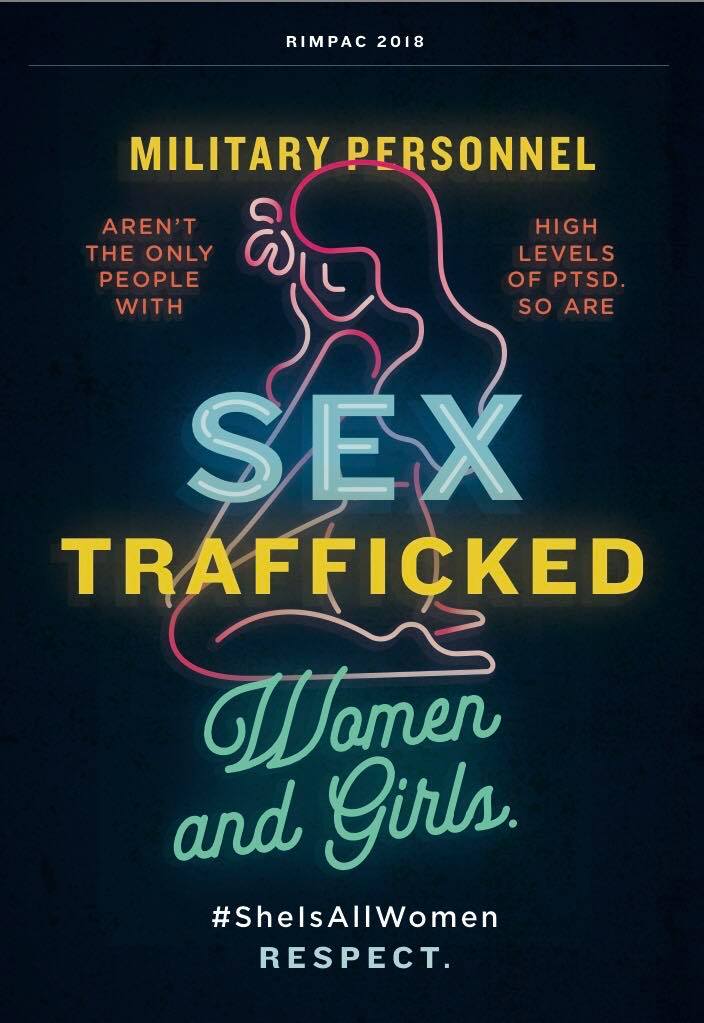 According to Khara Jabola-Carolus, the Executive Director of the Hawai'i State Commission on the Status of Women, "National data shows that demand for commercial sex during large gatherings such as the Super Bowl increases by 30-39%, and criminal networks including traffickers follow demand. Researchers specifically trained in the recognition of sex trafficking victimization have also found that 65% of online sex ads during recent Super Bowls were possible sex trafficking victims. RIMPAC is the military's Super Bowl."
Much attention has been given to the military's environmental and cultural impacts. Little to no focus has been given to women's safety living around the bases. Places with a large military presence often see higher rates of violence against women as a result of a larger process of normalized violence. According to the Sex Trafficking Intervention and Research at Arizona State University, Hawai`i has one of the worst demand problems in the America and a large number of buyers are on its military bases.
Jabola-Carolus also stated, "
RIMPAC is a symptom, not the disease. 
From western intervention to present, a system of prostitution has sexualized and exploited poor, Native, and vulnerable women's lower social power in Hawai`i. 
Military, tourist and local men need to adjust their perception of women. No one inshould have to sell their consent to sex in order to live. No one should get to use their economic power to force consent. The dignity of Hawai'i's men is dependent on the dignity of Hawai'i's women."
The Commission is urging the public to intervene if they suspect sex trafficking activity by calling 1-888-373-7888. Victims are also encouraged to seek help through the hotline. The public can expect to see "She is All Women" announcements throughout Oahu on bus ads and posters, radio ads, and videos on its social media accounts.