The Hawai'i State Youth Commission (HiYC) was established to, "Advise the governor and legislature on the effects of legislative policies, needs, assessments, priorities, programs, and budgets concerning the youth of the State."
-HiYC Purpose Statement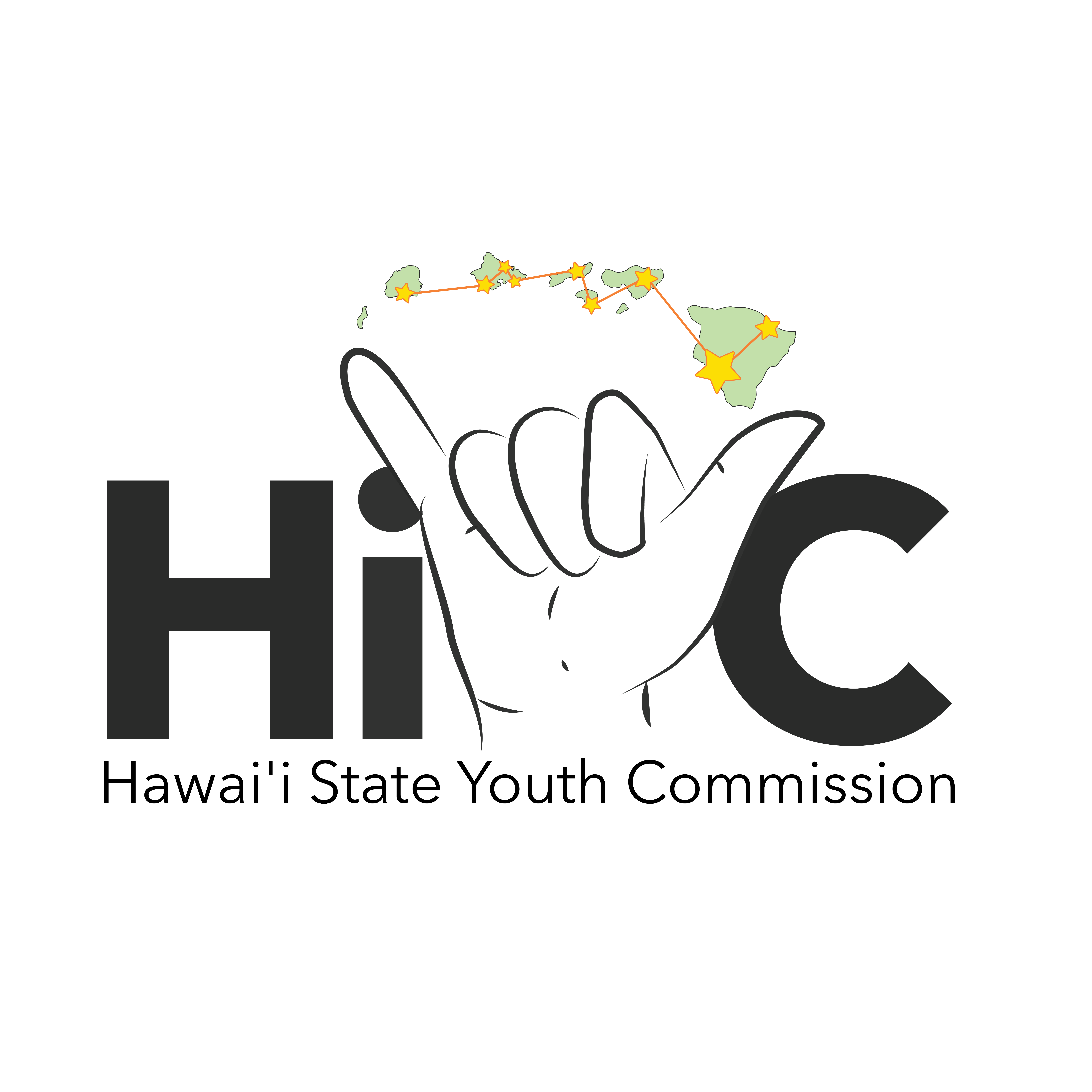 "The Hawai'i State Youth Commission is a constellation of youth, connected to our past and mindful of our future, who engage in public-policy advocacy through a commitment to inclusivity, opportunity, and progress in Hawai'i." 
-HiYC Mission Statement
HiYC 2022-2023 Term
The 15 Youth Commission members (ages 14 – 24) are appointed by the Governor, the Senate President, and the Speaker of the House and current membership includes representation from Kaua'i, O'ahu, and the Island of Hawai'i.
Big Island
Hana-Lei Ji

Eric Gee

Kauai
Kallen Wachi

Marrissa Matsushige

Oahu
Allurie Joy Almogela

Zoey Duan—Public Health Topic Lead

Jade Frank—Environment Topic Lead

Keola Kaniho—Chair

Jun Shin—Legislative Lead

Charla Treves—Secretary/Education Topic Lead

Logan Yogi —Vice Chair/Treasurer
Legislative Projects
Education
HB 79

Authorizes school complexes to incorporate media literacy in its standards-based curriculum, including content that prevents negative impacts of misinformation, disinformation, digital discrimination, and online hate speech.

HB 157

Requires the Department of Education to teach Hawaiian Language to students in each public elementary, middle, and high school.

HB 59

Requires a qualified school librarian and library resources on the campus of every public school in Hawaiʻi by 6/30/2026. Appropriates funds.

HB 54

Establishes a nationally certified school psychologist incentive program. Appropriates funds for the incentive program.

HB 69

Appropriates funds for the department of education's resources for enrichment, athletics, culture, and health programs.

HB 80

Authorizes public school complex areas to use authentic assessments as part of classroom-based performance assessments.
Environment
HB 444/SB 635

Constitutional amendment to include clean air/water/environment and healthy native ecosystems as a right.

HB 186/SB 386

Ban seabed mining in Hawai'i waters

SB 84

Establishes sustainable foods working group within the office of planning and sustainable development.

SB 658/HB 442

Establishes a visitor green fee (1 year valid license to parks etc) program starting July 2024, appropriates funds for environmental legacy commission which manages the funds.

HB 239

Requires clean energy economic transition program to create more jobs related to climate transition/equity, allows use of energy security special fund.
Public Health
SB 942/HB 1076/SB 496/HB 551

Prohibits the sale of flavored tobacco products and the mislabeling of e-liquids as nicotine free. Effective 1/1/2024.

SB 1245

Requires DOH to establish/contract with c to provide intervention and stabilization services in each county for persons experiencing mental health or substance use disorder crises. Appropriates moneys.

HB 827

Requires the DOE to develop and maintain a communication strategy and outreach plan for emergency management and disaster preparedness.

SB 1238/SB 759

Establishes the Kupuna Rural Health Care Pilot Program within the Executive Office on Aging of the Department of Health to improve access to care in rural areas of Hawaiʻi County and expand broadband internet access, provide at-home visits, and ground transportation for in-person health care services.

SB 508/HB 182

Requires the Clean Water Branch to perform water quality testing during brown water advisories and inform the public of health risks associated with water runoff. Requires the DOH to consider environmental justice issues when making certain assessments and determinations.

SB 842

Appropriates funds for the Department of Human Services to purchase health care services for certain low-income, uninsured immigrants.
Meeting Information
Hawaii State Youth Commission is inviting you to a scheduled Zoom meeting.
Topic: Hawaii State Youth Commission's Zoom Meeting
Time: Every Sunday at 4:00 PM Hawaii Standard Time (US and Canada).
Meeting ID: 835 5597 5874
Passcode: FbU1zT
Youth Commission Documents:
HiYC Beginnings
Signed into law on July 5, 2018, the creation of the Hawai'i State Youth Commission signals an official recognition of the unique obstacles the youth of Hawai'i face and the great burden future generations will inherit. Since "[m]any of the most persistent issues facing the State, such as affordable housing, jobs, and education, primarily affect youth," the Hawai'i State Legislature concludes, "the legislature and governor would benefit from additional formal input from youth on the effect of legislation on young people in the State."[1]
As such, the Hawai'i State Youth Commission was formed to "advise the governor and legislature on the effects of legislative policies, needs, assessments, priorities, programs, and budgets concerning the youth."[2]  The 15 Youth Commission members (ages 14 – 24) are appointed by the Governor, the Senate President, and the Speaker of the House.
While the need for the HiYC is urgent for our generation, the story of the commission comes with failed attempts in its inception. The first version of the HiYC was introduced as  "Youth Advisory Board" by Honolulu Charter Commission Member Nathan Okubo in 2016 which failed to pass after a 5-4 vote. The next versions of the HiYC were introduced as companion House[3] and Senate Bills[4] in 2017. Both versions of the bill failed to get a hearing from the Senate Ways and Means Committee. The last version of the HiYC[5] passed in 2018. The first cohort of Hawai'i State Youth Commissioners was chosen in June 2020.
HiYC's current work including public postings will be uploaded on this webpage soon. Stay Tuned!
[1] HB 1716 HD1 SD1 CD1, 2018 Reg. Sess. (Hawai'i 2018). https://www.capitol.hawaii.gov/session2018/bills/HB1716_CD1_.htm
[2] State of Hawai'i Revised Statutes, §352D-11 (2019).
[3] HB 1466 HD1 SD1, 2017 Reg. Sess. (Hawai'i 2017). https://www.capitol.hawaii.gov/session2018/bills/HB1716_CD1_.pdf
[4] SB 1220 SD1, 2017 Reg. Sess. (Hawai'i 2017). https://www.capitol.hawaii.gov/session2017/bills/SB1220_SD1_.pdf
[5] HB 1716 HD1 SD1 CD1, 2018 Reg. Sess. (Hawai'i 2018). https://www.capitol.hawaii.gov/session2018/bills/HB1716_CD1_.htm