Keiki P-EBT for Children Under 6 – Food Support Program (2022)
Posted on Jul 13, 2022 in Featured, Main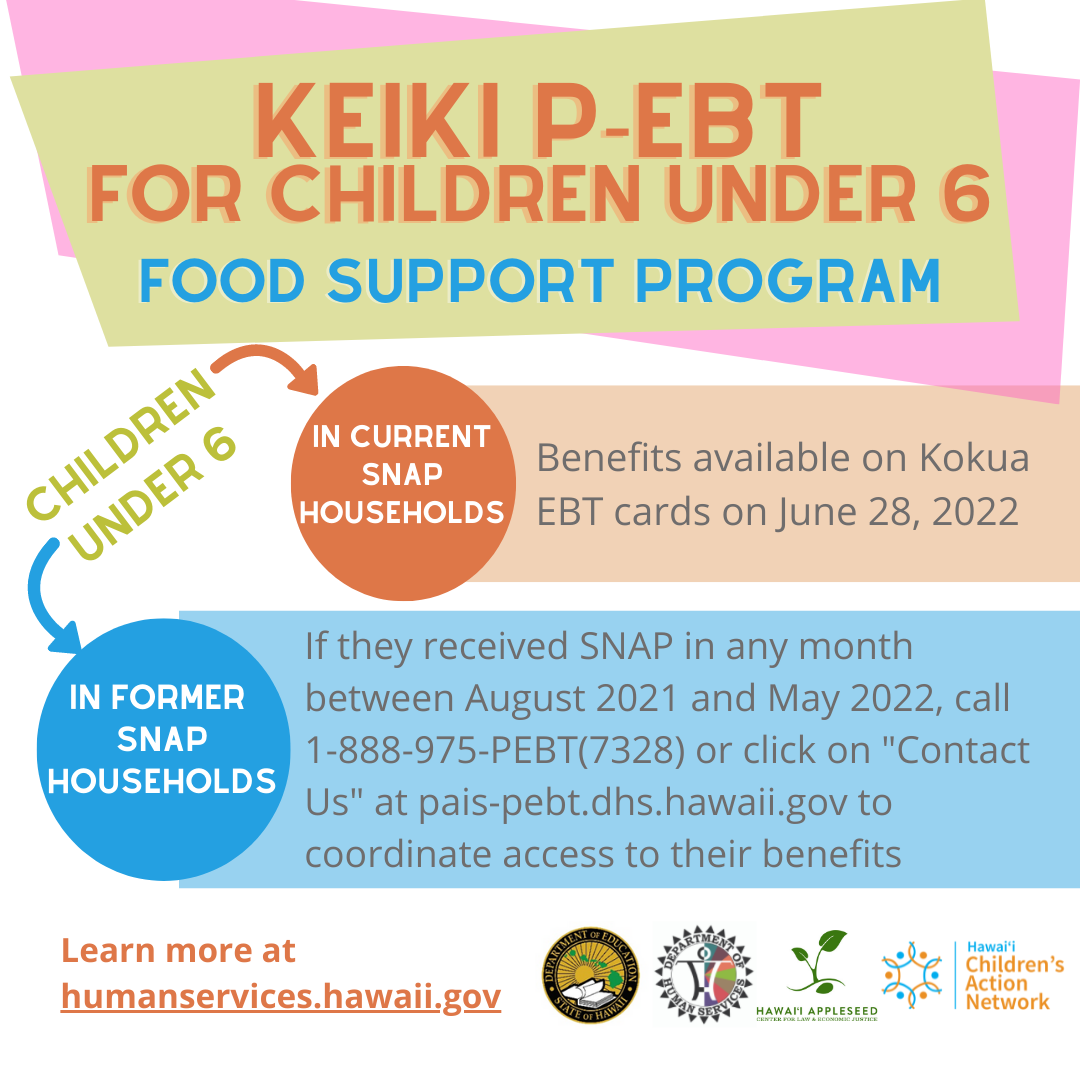 What is Keiki P-EBT?
The Keiki Pandemic Electronic Benefit Transfer (P-EBT) program is food assistance approved by the U. S. Department of Agriculture (USDA), Food and Nutrition Service, and authorized by the Families First Coronavirus Response Act (FFCRA) (P.L. 116-127) as amended by the Continuing Appropriations Act, 2021 and Other Extensions Act (P.L. 116-159) and the Consolidated Appropriations Act, 2021 (P.L. 116-260).
Who is it for?
Children under the age of 6 years old as of August 1, 2021 and has received SNAP benefits at any time between August 1, 2021 thru May 31, 2022.  The child(ren) must have received SNAP benefits in the month in order to be eligible for PEBT benefits for the month.
How do I apply for Keiki P-EBT?
There is no application for Keiki P-EBT benefits.  Eligible children are automatically enrolled for Keiki P-EBT through verification of SNAP participation with the Department's eligibility system.
How Does this Work?
Eligible children will have their benefits issued to their family's existing SNAP account and Kokua EBT. (Note: The eligible child must have received SNAP for the month of June 2022 for P-EBT benefits to be issued to the Kokua EBT card.)
If your child received SNAP in any month between August 2021 thru May 2022 but are now no longer with the SNAP household and/or no longer receiving SNAP, contact the P-EBT call center at 1-888-975-PEBT(7328), or write to us by clicking the "Contact Us" button at https://pais-pebt.dhs.hawaii.gov/ so that we coordinate their access to their benefits.
What if I need a replacement card?
If a replacement card is needed (Kokua EBT or Hawaiʻi P-EBT) please call the Fidelity Information Service (FIS) customer service at 1- 888-328-4292.
What foods can Keiki P-EBT benefits buy?
Benefits can be used to purchase SNAP-eligible foods, such as groceries (including frozen), snacks, and seeds or plants that will produce food. You can't use the benefits to purchase alcohol, tobacco products, vitamins, live animals, prepared foods, or any non-food household items.
For a list of SNAP-eligible foods, see www.fns.usda.gov/snap/eligible-food-items. The Kokua EBT cards can also be used in the Da Bux program.
How Much Will Children Receive?
For the months of August 2021 through May 2022, the amount a child may be able to receive is $46 for each month the child received SNAP.
A letter will be mailed starting from June 21, 2021 to inform you how much your child will be receiving for the August to May period.
When will benefits be issued?
The Keiki P-EBT benefits for the period August 2021 through May 2022 will be loaded to the family's Kokua EBT account on June 28, 2022.
Where can I check on my child's P-EBT benefit status?
Clicking the "Pandemic EBT Status Lookup" button at https://pais-pebt.dhs.hawaii.gov/
Where can I call if I have more questions (such as where can I report a change of address)?
You can call the P-EBT call center at 1-888-975-PEBT(7328), or write to us by clicking the "Contact Us" button at https://pais-pebt.dhs.hawaii.gov/