Notification of Processing Center Move Within Wahiawa
Posted on Jan 30, 2023 in Main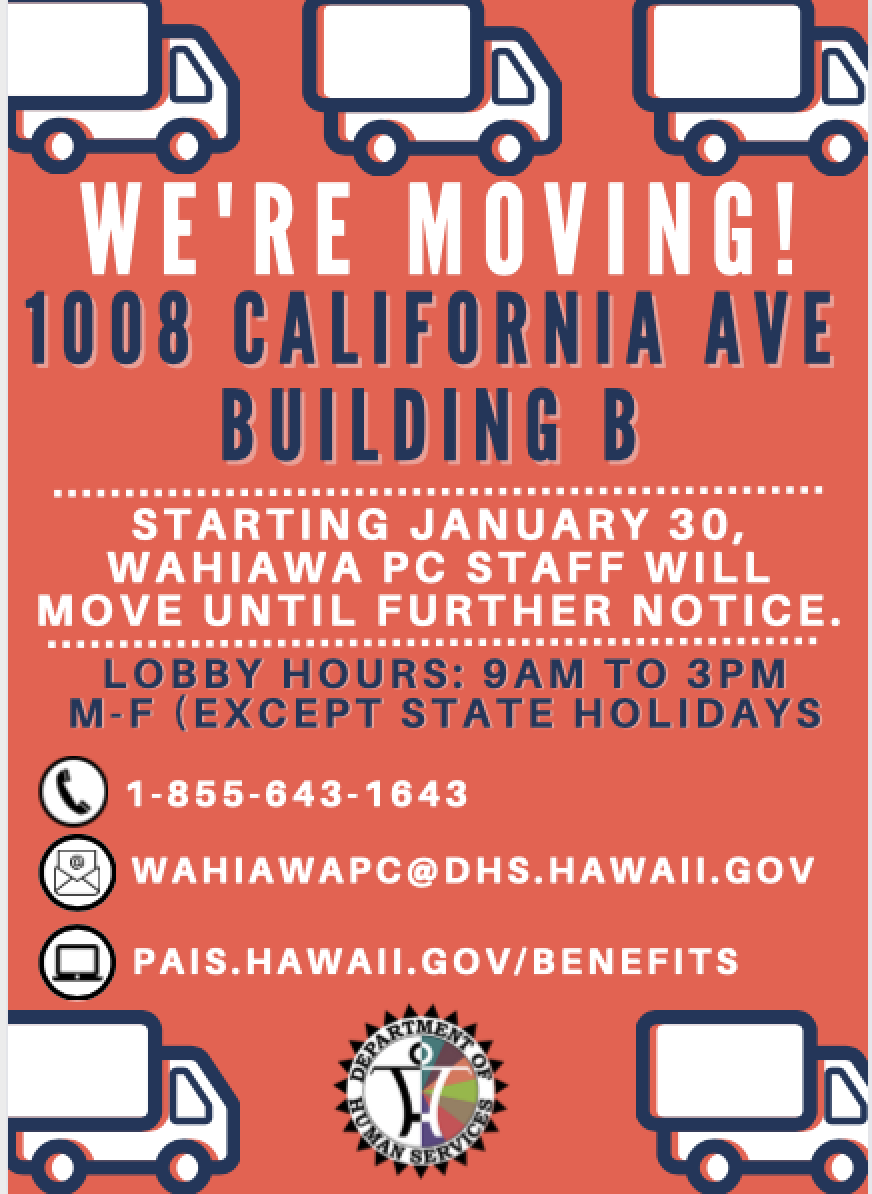 This Notice Was Sent to Wahiawa Processing Center Clients/Constituents about the Move from 929 Center Street to 1008 California Ave (Building B) :
EFFECTIVE JANUARY 30, 2023, THE WAHIAWA PROCESSING CENTER STAFF WILL BE RELOCATED TO 1008 CALIFORNIA AVENUE, BUILDING B IN WAHIAWA UNTIL COMPLETION OF THE NEW WAHIAWA CIVIC CENTER.  WE ARE COMMITTED TO SERVING THE WAHIAWA COMMUNITY AND ARE MAKING OUR BEST EFFORTS TO CONTINUE IN-PERSON SERVICES FOR THE PUBLIC.
ALL HOUSEHOLDS HAVE THE OPTION TO ACCESS SERVICES IN SEVERAL WAYS IN ADDITION TO ACCESSING OUR OFFICE LOBBIES IN WAHIAWA AND AROUND OAHU FROM 9:00AM TO 3:00PM MONDAY THROUGH FRIDAY, EXCEPT STATE HOLIDAYS.
YOU CAN GO ONLINE TO WWW.PAIS.BENEFITS.DHS.HAWAII.GOV TO EITHER APPLY FOR BENEFITS OR COMPLETE YOUR RECERTIFICATION.  YOU MAY ALSO ACCESS A BENEFIT LETTER AT ANYTIME ON THAT SAME WEBSITE.
IF YOU NEED TO REQUEST A REPLACEMENT EBT CARD, YOU MAY CALL1-888-328-4292 OR LOG IN TO WWW.EBTEDGE.COM.  YOU CAN ALSO ACCESS YOUR BENEFIT BALANCE, TOO. IF YOU HAVE ANY QUESTIONS, YOU MAY CALL 1-855-643-1643.  THERE ARE A VARIETY OF OPTIONS TO ACCESS INFORMATION REGARDING YOUR BENEFITS.