Hawaii State Commission on the Status of Women
Mission Statement
The Hawaii State Commission on Status of Women (HSCSW) is a statewide feminist government agency the works toward equality for women and girls in the State by acting as a catalyst for positive change through advocacy, education, collaboration and program development.
About the Hawaii State Commission on the Status of Women
The Hawaii State Commission on the Status of Women was created by executive order on May 15, 1964 to function as a central clearinghouse of resources, services and advocacy for women and girls. The Commission was established to assist in legislative advocacy and implementation, to develop programs for women and girls, and to serve as an informational resource for Hawaii's women and girls on a broad range of policies and issues.
Khara Jabola-Carolus serves as the Executive Director of the Commission. The Commission also consists of seven (7) appointed commissioners from across the state. The Commission is tasked with improving the status and well being of women and girls and working towards gender equality, within the state and nationally. For more information about current projects and programs call (808) 586-5757 or send an email to [email protected].
_______________________________________________________________________________
Quick Reference
Hawaii Emergency Rental Assistance Programs
From the Hawaii State Commission on the Status of Women
Last updated June 23, 2020
To see Quick Reference, click here
_______________________________________________________________________________
Statement for Black Lives Matter

Komikina Kūlana Olakino o Nā Wāhine
Hawaiʻi State Commission on the Status of Women
Statement for Black Lives
June 2, 2020
The Hawaiʻi State Commission on the Status of Women condemns the recent murder of George Floyd, Breonna Taylor, Tony McDade, and Ahmaud Arbery as well as centuries of Black death tolerated, sanctioned, and performed by state actors. These were not isolated manifestations of personal bias but consistent with anti-Black racial ideology – a norm – pervasive throughout Hawaiʻi, the United States and the globe. The Commission stands with Black communities against racism and fascism in the quest for collective justice.
To read full statement, click here
_______________________________________________________________________________
 Hawaii State Commission on the Status of Women's Feminist Economic Recovery Plan for COVID-19
The Hawai'i State Commission on the Status of Women announces the first state proposal for a feminist economy recovery to stop the rush to rebuild the status quo after COVID-19, to support struggling women today, and to create a new economy that values us beyond our economic productivity. Help us build the bridge to a feminist future that centers Native rights.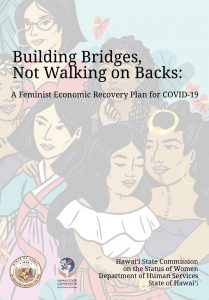 Read and share Building Bridges, Not Walking on Backs: A Feminist Economic Recovery Plan for COVID-19.
_______________________________________________________________________________
Recent Legislative Victories for the Commission, Women, and Transgender and Gender Non-Conforming People!
No License to Discriminate Law — removing the gender binary from Hawai'i's driver's licenses
Requires a license or state identification card to include a person's full legal name, date of birth, gender designation, residence address, and license number. Specifies gender designation options of F, M, or X. Act 148 will take effect on July 1, 2020.
Survivors Not Criminals Law — supporting all people in recovery from prostitution, not just sex trafficking victims
The first and only law in the United States to allow any person convicted of prostitution to vacate the conviction, even if they are not a victim of sex trafficking. The defendant can vacate if not convicted of another offense under the Penal Code within three years of the prostitution offense. The law does not extend to buyers and pimps. "We support the decriminalization and destigmatization of prostituting people, but not the system itself or those doing the harm. A criminal record makes it difficult for women to transition into "above-ground employment" and a "life free of stigma," according to the Hawaii State Commission on the Status of Women."
_______________________________________________________________________________
County & University of Hawaii Committees on the Status of Women
Honolulu County Committee on the Status of Women
Hawaii County Committee on the Status of Women
Kauai County Committee on the Status of Women
Maui County Committee on the Status of Women
University of Hawaii Commission on the Status of Women
_______________________________________________________________________________
Annual Calendar
In addition to proposing and advocating legislation that supports the advancement of women, the HSCSW focuses on specific issues during designated months.  Please check this site for scheduled events.
January – Sex Trafficking Awareness Day
March – Women's History Month
April – Sexual Assault Awareness Month
May – National Women's Health Week
July – National Association of Commissions for Women (NACW)
September – Women's Health Month
October – Domestic Violence Awareness Month
____________________________________________________________________________________________________________
#MeToo Prevention Training
The Commission is offering free #MeToo Prevention Trainings to organizations across Hawaii and nationwide, including businesses. The one-hour training is available by request.
Background
Thanks to the #MeToo movement, there is a greater awareness that sex discrimination including sexual harassment remains part of everyday life for the majority of women. Current sexual harassments trainings aren't cutting it.
In 2016, the Equal Employment Opportunity Commission (EEOC) issued an expansive study on sexual harassment in the workplace. The EEOC found that conventional compliance trainings on sexual harassment are ineffective because they focus on standards for legal liability rather than organizational change. The EEOC concluded that sexual harassment trainings should be in-person and victim-centered. In October 2017, the EEOC announced two new training programs on 'respectful workplaces.' These trainings; however, do not interrogate systemic sexism and the hierarchical relationship between men and women that follow them into the workplace.
Description
This first-of-in-the-nation #MeToo Prevention course trains participants to recognize gender stereotypes and discriminatory behavior and systems at work in their organization. The training does not focus on legal frameworks and solutions that rely on criminalization or civil sanctions. Instead, participants gain an understanding of gender-based oppression by examining the cultural conditions that often lead to sexual harassment in the workplace. Recommendations for a safe, inclusive workplace are also provided.

Past participants include the National Association of Social Workers, Office of the Prosecuting Attorney – Kauai, Legal Aid's Hawaii Immigrant Justice Center, National Association of Commissions for Women, and community organizations and classrooms across the islands.
____________________________________________________________________________________________________________
Data and Resources
For Youth
Guide to Youth Rights
For Women
The Status of Women in the States – Employment and Earnings (2013)
Women's median annual earnings for full-time, year-round work in 2013 ($40,000) were nearly identical to their earnings for similar work in 2002 ($39,108 when adjusted to 2013 dollars). The gender earnings ratio improved during this time from 78.3 to 83.3 percent, narrowing the gender wage gap by 5 percentage points, and the share of women working in professional or managerial occupations decreased from 39.9 to 37.0 percent. Women's labor force participation rate, however, stayed the nearly same from 59.6 in 2002 to 59.4 percent. Hawaii ranks 18th in the nation and was given a C+ rating
Women in Elective Office 2015 (Infographic)
Report – Status of Women in Hawaii (2017)
A compilation of statistics and information pertaining to the status of women in Hawaii. This data represents (1) voting; (2) women in office; (3) households; (4) violence against women; (5) education; (6) economics; (7) pay equity; (8) employment; (9) women's health, and more. Most of the information is adopted from the United States Census Bureau.

_______________________________________________________________________________
_______________________________________________________________________________
Political and Leadership Resources
Applications for Hawaii Boards and Commissions
The Office of the Governor oversees more than 160 boards and commissions established by the state constitution, statutes or executive orders, providing an opportunity for a cross-section of Hawaii residents to offer vital input.  The Governor's team is looking for exceptional individuals who are dedicated to continuing the State of Hawaii's momentum toward a strong and sustainable economy, and are committed to investing in the people of Hawaii and our statewide community.
Ready to Run
Created by the Center for American Women and Politics to train women in candidates, Ready to Run™ is a non-partisan campaign training program to encourage women to run for elective office, position themselves for appointive office, work on a campaign, or get involved in public life in other ways. Central to the Ready to Run™ model is an innovative, comprehensive curriculum that incorporates the political culture and climate of the locale and uses state and local campaign experts to highlight the specifics of running in a particular state or region. The program demystifies the process of running for elected office, encourages more women to mount campaigns, and introduces them to elected and appointed leaders, campaign consultants, and party officials in their state to whom they can turn as they get ready to run. CAWP's model curriculum covers fundraising, positioning oneself for elected office, navigating the political party structure, media training, the nuts and bolts of organizing a campaign, mobilizing voters, and crafting a message.
Center for American Women in Politics
The Center for American Women and Politics (CAWP), a unit of the Eagleton Institute of Politics at Rutgers, The State University of New Jersey, is nationally recognized as the leading source of scholarly research and current data about American women's political participation. Its mission is to promote greater knowledge and understanding about women's participation in politics and government and to enhance women's influence and leadership in public life.  CAWP's education and outreach programs translate research findings into action, addressing women's under-representation in political leadership with effective, imaginative programs serving a variety of audiences.
_______________________________________________________________________________
Archival Information
Act 110 – Patsy Mink Equal Opportunity in Education Act (Title IX)
Act 248 – Protection for Domestic Workers in Hawaii
Act 248*, enacted in 2013, amends our state fair employment law to protect domestic workers against employment discrimination in terms, conditions, and privileges of employment, but not hiring and firing. Under the new law,  it is illegal for an employer to discriminate against a domestic employee in compensation or in terms, conditions, or privileges of employment because of race, sex, including gender identity or expression, sexual orientation, age, religion, color, ancestry, disability, or marital status. Under this new statutory protection, employers of domestics can choose who they want to work in their home or residence, and can hire and fire for any reason.   *Act 248, 2013 Session, §§ 1-2, amending Hawai'i Revised Statutes §§ 378-1 and 378-2
Act_206 – Protection for Domestic Violence and Sexual Assault Survivors in the Workplace
In 2011, the state of Hawai'i enacted Act 206 to protect the employment rights of victims of domestic and sexual violence by: (1) prohibiting employment discrimination on the basis of domestic or sexual violence victim status under H.R.S. chapter 378, part I "Discriminatory Practices"; and (2) amending H.R.S. chapter 378, part VI, formerly titled "Victims Leave" and renamed "Victims Protections", to add a sub-part requiring employers to make reasonable accommodations for employees who are victims of domestic or sexual violence. Act 206
took effect on January 1, 2012
_______________________________________________________________________________
TASK FORCES
1. Hawaii Home Birth Task Force
2. Micronesia Women's Task Force
3. Housing Justice Task Force
_______________________________________________________________________________
BOARDS AND COMMISSION
If interested in applying for a position as a Commissioner/Board Member, applications can be submitted through "Boards and Commissions" on the Governor's page. The Governor's office hopes to identify new members to fill vacancies at least by March 8th, and no later than the Legislators' deadline of March 30th