Commission on Fatherhood
Join the Commission on Fatherhood for its annual Father-Child Look-Alike Contest on Saturday, June 17!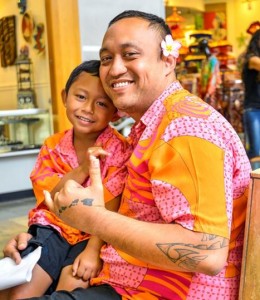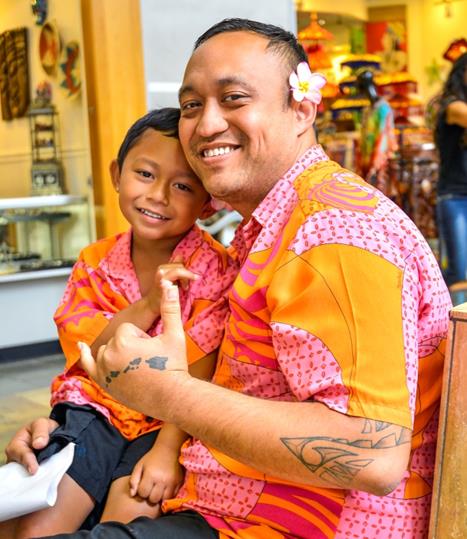 The Mission
The mission of the Hawaii State Commission on Fatherhood (COF) is to promote healthy family relationships by emphasizing the important role fathers play in the lives of their children. The Commission serves in an advisory capacity to state agencies and makes recommendations on programs, services, contracts, policies, and laws relating to children and families.
About the Commission on Fatherhood
An increasing body of evidence indicates that children are more likely to thrive with the support, guidance, and nurturing of both parents. Yet, many children across the country are growing up without fathers. As a result, they may lack appropriate male role models and face greater risks of health, emotional, educational, and behavioral problems during their developmental years.
Motivated by a renewed understanding of a father's vital role in family and community life, the 2003 Hawaii State Legislature established the Commission on Fatherhood through Act 156; in June 2007, Hawaii Act 190 made it permanent. The commissioners operate independently, but the commission is administratively attached to the Department of Human Services. Four standing committees implement Commission projects and activities:
Information and Education
Polices and Practices
Public Relations and Promotion
Events and Recognition
The State of Fathers in the State of Hawaii (2015) – A collaboration between the Commission on Fatherhood and the UH Center on the Family, the study provides a snapshot of the state of fathers across Hawaii. The study also identifies the number, characteristics, and geographical distribution of fathers, and highlights differences and similarities between Hawaii and mainland populations.
Fatherhood Commission Brochure
2013-2014 Fatherhood Commission Strategic Plan
Hawaii and National Fatherhood Resources
Want to Serve as a member of the Fatherhood Commission?
The Commission on Fatherhood regularly recruits individuals to serve and to vote on issues. To learn how you can help fulfill the Commission's mission, call the Governor's Office of Boards & Commissions at (808) 586-0034 or send and email to boards.and.commissions@hawaii.gov. Visit the Governor's Office of Boards & Commissions website at http://boards.hawaii.gov
Commission Meetings
Commission meetings are open to the public and are generally held the third Tuesday of each month at 1:00 p.m. at the DHS Office, 1390 Miller St. To confirm the meeting time and location, send an email to dhs@dhs.hawaii.gov
2017 Meeting Agendas
June 30, 2017
May 16, 2017
April 18, 2017
March 21, 2017
February 16, 2017
January 17, 2017
2017 Meeting Minutes
April 18, 2017
March 21, 2017
2016 Meeting Agendas
November 22, 2016
October 25, 2016
September 27, 2016
September 13, 2016
August 30, 2016
May 17, 2016
April 15, 2016
Feb. 18, 2016
Jan. 19, 2016
2016 Meeting Minutes
Jul. 12, 2016
Mar. 15, 2016
Feb. 18, 2016
Jan. 19, 2016
2015 Meeting Agendas
Dec. 15, 2015
Nov. 17, 2015
October 20, 2015
September 15, 2015
August 25, 2015
June 2, 2015
May 19, 2015
April 1, 2015 – Special Meeting
March 17, 2015
Feb. 17,2015
Jan. 20,2015
2015 Meeting Minutes
Nov. 17, 2015
Oct. 20, 2015
June 16, 2015
May 19, 2015
April 21, 2015
March 27, 2015
Feb. 17, 2015
2013 & 2014 Archives
Funding
The Commission on Fatherhood receives both State and private funds. HRS § 577E-7 provides that: "The commission shall administer funds appropriated or allocated for its work and shall be authorized to accept, disburse, and allocate funds that may become available from other governmental and private sources; provided that all such funds shall be disbursed or allocated in compliance with any specific designation stated by the donor and, in the absence of any specific designation, the funds shall be disbursed or allocated on projects related to any of the purposes of this chapter."